A.C.T. 25TONEARM
Effective mass: 9g
Over distance: 18mm effective
Length: 235mm installation
Distance: 217mm (spindle to column)
Weight: 340g
Recommended range of cartridge: 5-16g (assuming the maximum required tracking force is 2G)
Wilson Benesch kinchi, UK, launched the latest a.c.t. 25 arm to mark the 25th anniversary of the company's founding. The first product of Jinchi's earliest creation was to simulate black rubber disc circle! The classic product is one of the most durable designs in history. Even after 25 years, the industrial design of a.c.t. singing arm has the same avant-garde and modern sense. So on the 25th anniversary of the company's founding, kingchi uses the latest materials and processing technology to make a.c.t. 25 boom commemorating the company. Wilson Benesch claims that a.c.t. 25 is one of the lightest, but most rigid, and most accomplished booms in the world.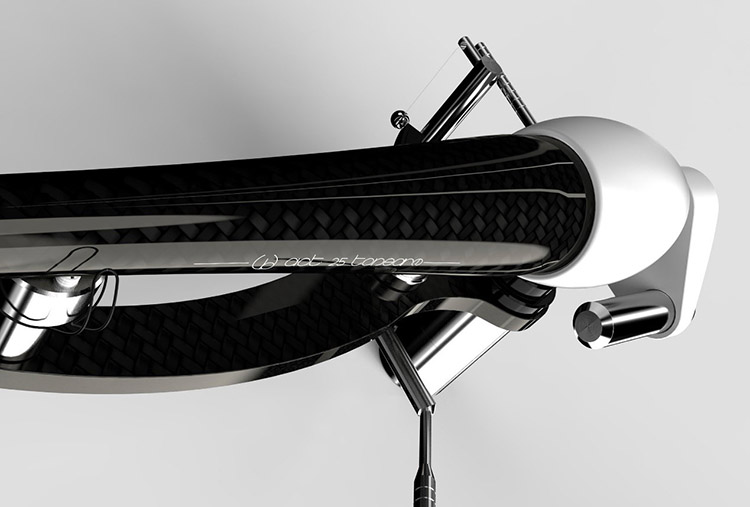 A. C.T. 25 adopts spiral 0 / 90 braided aerospace grade carbon fiber integrated forming arm tube and singing head shell. The bending resistance of C.T. 25 is 10 times higher than that of titanium metal. The quality of C.T. 25 is only 1 / 2 of that of aluminum alloy singing arm. The hardness of C.T. 25 is 5 times higher than that of steel, and the damping is better than any traditional mechanical application materials. As a carbon fiber application research manufacturer enjoying the national defense allowance, Jinchi has been adhering to the concept of "the future is carbon" for 25 years, and constantly exploring the potential of carbon fiber in audio engineering. The geometric shape of a.c.t.25 singing arm is highly optimized by finite element analysis (FEA) to provide stiffness and damping in the form of cross helix and cone. The use of materials is reduced and thus the mass of the assembled conductor, the counterweight and the subsequent mass requirements of the entire system are reduced.

A. The bearing system under the eggshell aluminum shell of C.T. 25 is made of brass, fine steel and other materials. Its unique bearing structure is different from the general single point bearing. It uses three carbon chromium bearings "balls" with a diameter of 1 mm to ensure that the singing arm will always move on the central axis. It is a beautiful, simple, highly accurate and stable design.